Virginia Is for Lovers – Romantic Getaways at Love Ridge
Romance on the Ridge – Love Is in Our Name
You've likely seen or heard our iconic state slogan before – Virginia is for Lovers – and nowhere is that more true than here at our Blue Ridge Parkway Cabin Rentals Virginia. When you turn off the Blue Ridge Parkway onto Love Road, get cozy in one of our mountain cabins, and settle into the gorgeous natural surroundings, your romantic getaways with that special someone will be unforgettable.
Get Outside and Explore
The options for planning an outdoor romantic getaway together near Love Ridge are endless – choose from several waterfalls and nearby trails, Wintergreen Resort's slopes, and scenic drives into Shenandoah National Park, all within an hour of our location.
Crabtree Falls, one of the area's most scenic hikes, is a stunning route – the trail climbs to a series of cascading waterfalls. It's one of the most popular trails in the state, but it's likely to be more private and intimate during this time of year without the summer crowds. See our guide to the best winter hikes near Love Ridge for more info on this trail and others nearby.
Few settings are more romantic than a picnic for two with a spectacular view, especially at sunset. Look no further than the numerous postcard-worthy overlooks along the Blue Ridge Parkway, each with a swoon-inducing view of the national forests surrounding us in every direction. Take the scenic route north and stop in Staunton at Seed to Tail Kitchen and Market. Grab soups, salads, and sandwiches for your picnic, all made with locally-sourced ingredients. From there, you'll be just 20 miles from the southern entrance to Shenandoah National Park, where you can choose between overlooks like Calf Mountain and Sawmill Run, perched at over 2,500 feet and with views that will take your breath away. Savor the delicious eats as the sun sets over the Shenandoah Valley.
It's a gift to have a ski resort as our neighbor (see our in-depth guide about Wintergreen Resort), and it's easy and convenient to get out for some turns together on their slopes. For a unique experience, head up to Wintergreen for a night skiing session – enjoy their varied terrain in the quiet of the night and take chairlift rides snuggled up arm-in-arm under the stars.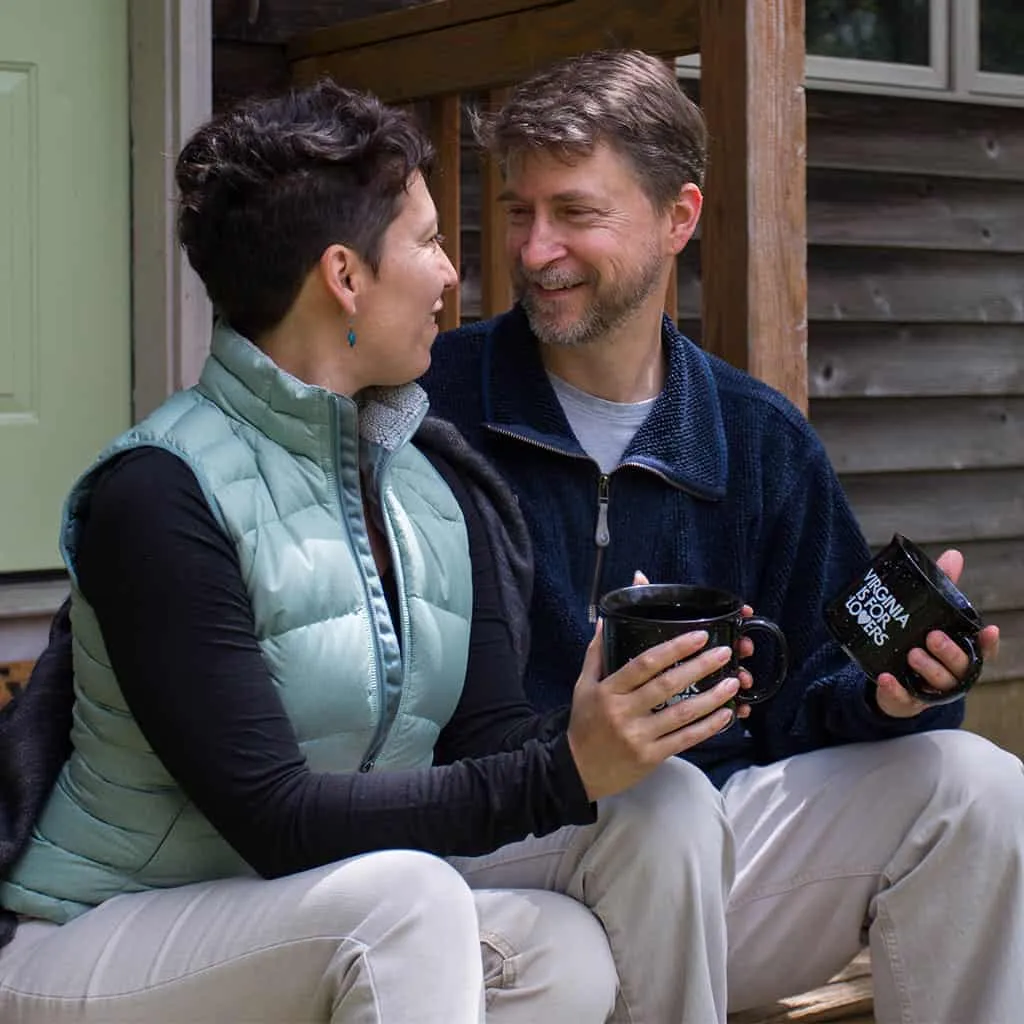 Romantic Getaways for Two – Soak, Relax, and Unwind
Our Blue Ridge Parkway cabins are the perfect combo of relaxation, romance, and comfort. After a romantic getaway in the outdoors, return to the privacy of your cabin and take a calming soak together. Our three large family cabins and one medium cabin (Spy Rock) have hot tubs. In addition, several cabins (Meadow Mountain, Dripping Rock, Bee Mountain, Kennedy Ridge and Three Ridges Cabins) have interior jetted tubs. Our top recommendation for couples is High Meadows where your can enjoy a soak in our two person soaking tub. Between soaks, cook a meal together at the cabin, or have an intimate dinner in downtown Staunton, where several excellent restaurants line the downtown district.
Make the ambiance even more special with our night skies romance package, which features chilled local wine, silk rose petal decorations, and flickering votives.
Stay with us, escape to Love Ridge, and discover why "Virginia Is for Lovers!"